Thursday, Jun 6, 2019
18:30 - 20:30
Location
Atelier Rose Jasmin
Rue de neuchatel 43, Genève (GE), Switzerland
Share this event
Import to my calendar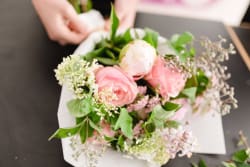 Description
Welcome to the floral universe of Atelier Rose Jasmin. Our profession is our passion. Our creations both romantic and natural, combine colours, textures, smells and emotions.
With a special attention to the rhythm of the seasons, we get our inspiration from nature and its ephemeral aspect to create elegant, unique and tailor made compositions. We use the finest flowers, sometimes forgotten varieties, favouring more local producers when possible to highlight the floral richness and delicacy of the surrounding nature.
For more information: Atelier Rose Jasmin
Floral Workshops "Champêtre bouquet" – Atelier Rose Jasmin
The workshops are moments of discovery and sharing, an invite to re discover the little pleasure of being surrounded by flowers. You will let your own sensibility and creativity express theirselves while gaining in self confidence.
Winter flowers and scents workshop. Create our own winter floral arrangement made of seasonal flowers….
No previous experience needed, just come with your enthusiasm!
Included: Fresh and beautiful seasonal flowers and greenery (you take your creation back home), all the furnitures needed, little refreshments….
Participation and Reservations
Rate: CHF 120.- per person
Limited number of participants to guarantee a personalized approach.
Reservations by email: [email protected]
For more information: Floral workshops
Categories
Share this event